I have been using cameras at home since late 90's, mostly for fun. When we bought a house in 2011, the usage changed. I started with a camera to check if the garage door was open or closed, then a weather-camera, then a camera in the stable to check on the horses and so on.
In most cases, video surveillance requires a computer with a basic good CPU and storage (basic computer work mostly fine), so recommending surveillance-equipment for homes have not been easy through the years. Most people don't want to host their own hardware, then someone invented the cloud 😮
My other articles of video surveillance:
Technical solution
If you want video-surveillance at your home, you need one of three technical solutions.
Security providers (outsourced)
A lot of security companies have cameras, but all I have looked at so far have high monthly fee and you are not allowed access to the camera feed (e.g. Norwegian Verisure).
If a burglary occurs the camera feed are sent to the police.
Cloud providers
A friend of mine have one Ring (doorbell) and one Nest camera. They look great, both camera and app. They look like a good solution, but then you want more than basic functionality (like storing recordings) and you need to pay a monthly fee.
For my setup, Ring would have cost me 288€ (2859 NOK / $326) each year in only subscription, but they now have an "entire home" subscription you'll get for 100€ /year (992 NOK / $113). Then I need cameras. Let's take the Ring Spotlight for about 190€ (1799 NOK / $205). I have eight cameras at the moment, so that would be 1520€ (14 392 NOK).
Nest cost 1000 NOK (101€ / $114) for 10 days of recording and 3000 NOK (305€ / $343) for 30 days /year. Nest Outdoor cam cost 2299 NOK (234€ / $262). Eight cameras will have a total of 18 392 NOK (1875€ / $2103)
* Prices can differ from country to country. Some prices have been converted by currency and may not be accurate for your country.
Ring and Nest is just an example of a cloud providers. There are a lot of them out there, but they are mostly the same.
I currently use Arlo for my baby cam and would not recommend Arlo to anyone. Half the time it's just spinning and trying to connect. They only allow one user to be logged in on one device at the time – so If you have a tablet with your camera and open it on your phone or web-browser, you are thrown out from the other device.
Negative things about cloud surveillance (or cloud items in general):
Expensive
If the company is discontinued, it would probably make your cameras dumb or none-working.
All images are sent to the cloud (someone else's computer)
You use a lot more data traffic
Positive things:
Hosting your own solution
I recommend reading my Video surveillance software article. It's a bit old now, but I have listed a lot of software for video surveillance there.
Hosting your own solution mostly requires a box at your home, like a computer with software, NAS or Network Video Recorder (NVR). You can also buy this (box + cameras) as a service from a provider, but it shouldn't be any reason for this today.
Use any IP-camera
My first criteria when looking into surveillance, was to use any IP-camera. I bought a lot of different cheap cameras from eBay, DealExtreme (DX), Alibaba Express and Biltema (Norwegian store). I tried to focus on one brand, but it was hard to find the same camera after a while.
I had a lot of problems with the different cameras. Different connections (CAT, WiFi, PoE…) and different mounting. Some of the cameras (YianTime) required a software (in Chinese) on my computer, to configure them, some was hacked after just 5 minutes (YianTime) and some died after a year or two (Biltema). Two of the camera images often froze or had bad quality (This cameras).
WiFi cameras
One or two WiFi camera is usually not a problem – but If you want more cameras over a period of time, don't use WiFi! A lot of WiFi cameras requires high bandwidth and would probably kill your WiFi Network. This applies to all solution (cloud or not) but depends a lot on the camera, what data is sent over the WiFi and if recordings are stored on the camera itself or not.
I always recommend cable for all mounted/static devices (TV, desktop computer, camera, etc…).
My testing and setup through the years
Through the years I have been testing a lot of software. I have used iSpy and Netcam Studio on a Windows computer (VM) for some years – as I had multiple different IP-cameras.
Ubiquiti UniFi
After years of testing mostly network-equipment and some cameras from Ubiquiti at my work, I decided that they have great products for their value (Enterprise quality for an affordable home price).
UniFi Video
At first, I bought three G3 Flex cameras and "installed" UniFi Video in a Docker container. UniFi Video is a standalone software for the UniFi cameras. It's written in Java, so you can run on almost everything (Windows, Linux, Docker…).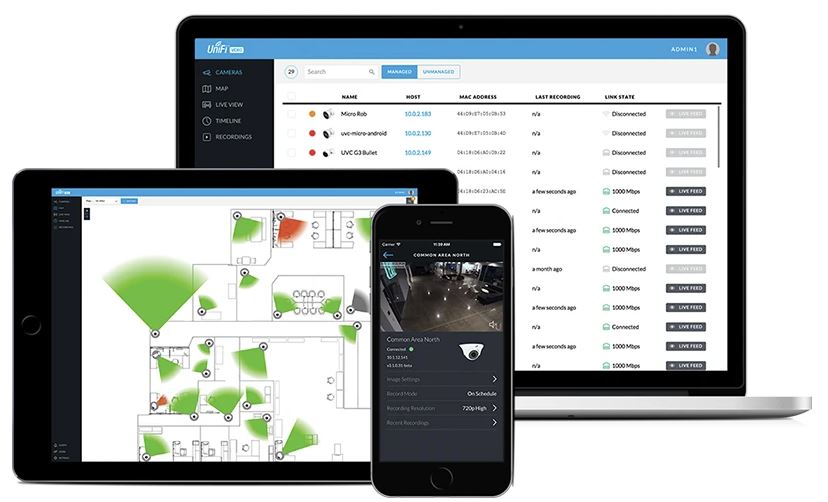 UniFi Protect
UniFi Protect is their embedded software in their NVR/Cloud key equipment. Currently the UniFi Video has some more features than Protect, but it's under constant update and Protect has all features I need.
I ordered a Cloud key Gen2 Plus right after the release, it's a little box that fixes everything for you. The Cloud key feature allows me to access the surveillance securely from the Internet and the Plus is the NVR (UniFi Protect) with 1TB HDD.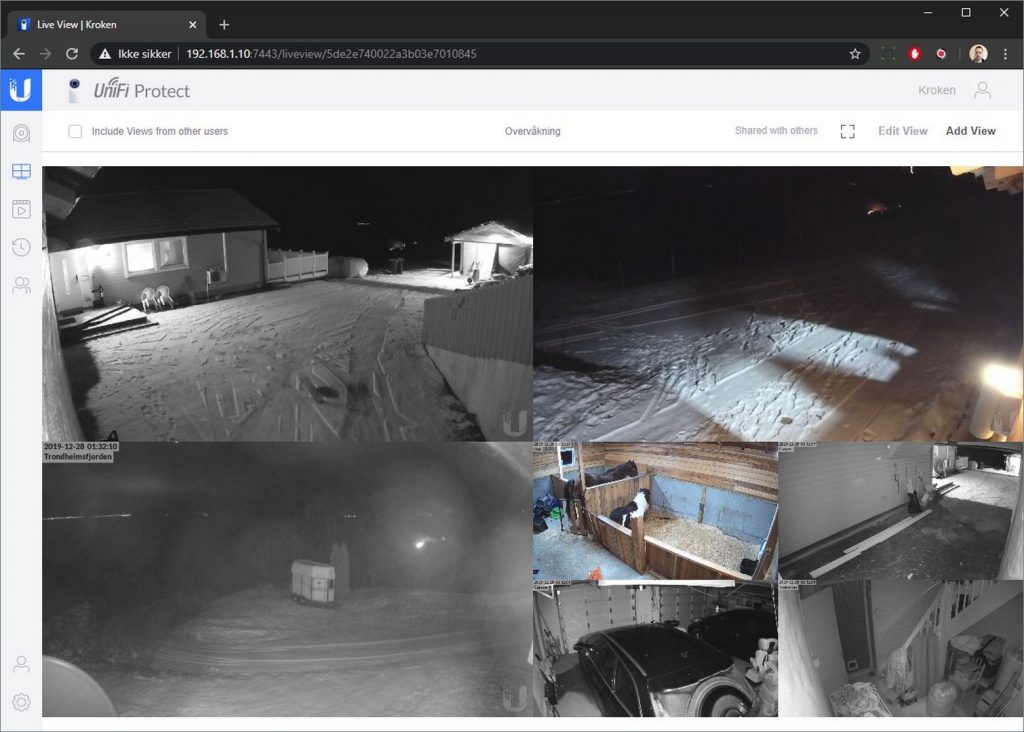 Price comparison
Comparing prices for my setup. 8 cameras in a period over three years.
Note that the prices I found where sometimes given in NOK (Norwegian kroner), Euro or dollars, so they are currency converted. The price may differ from country to country – and I may have converted wrong.
Blue Iris (Host own solution from scratch, with cheap cameras)
I see many people are using Blue Iris on different forums. I haven't used it myself, but Netcam Studio cost $75 for 16 camera sources, so it's in the same price range. iSpy is free, but costs from $8 each month for ad free and cloud service.
| | | | |
| --- | --- | --- | --- |
| Product | Qty | Price each | Sum |
| No brand camera | 8 | 400 NOK / 40€ / $45 | 3200 NOK / 326€ / $365 |
| Blue Iris | 1 | 844 NOK / 86€ / $69,95 | 844 NOK / 86€ / $69,95 |
| SUM | | | 4044 NOK / 412€ / $462 |
* Requires a computer to run software. You buy the license for the software, so it will be the same price year after year.
Nest (Cloud solution)
| | | | |
| --- | --- | --- | --- |
| Product | Qty | Price each | Sum |
| Nest Outdoor Wifi camera | 8 | 2299 NOK / 234€ / $262 | 18392 NOK / 1875€ / $2103 |
| 10 days recording (3 years) | 3 | 1000 NOK / 101€ / $114 | 3000 NOK / 305€ / $343 |
| SUM | | | 21392 NOK / 2181€ / $2446 |
Ring (Cloud solution)
| | | | |
| --- | --- | --- | --- |
| Product | Qty | Price each | Sum |
| Ring Spotlight Cam | 8 | 1790 NOK / 182€ / $204 | 14320 NOK / 1456€ / $1632 |
| Protect Plus Plan | 3 | 881 NOK / 89€ / $100 | 2644 NOK / 269€ / $300 |
| SUM | | | 16964 NOK / 1725€ / $1932 |
Ubiquiti UniFi
| | | | |
| --- | --- | --- | --- |
| Product | Qty | Price each | Sum |
| G3 Flex camera | 8 | 855 NOK / 87€ / $97 | 6840 NOK / 697€ / $782 |
| Cloud key Gen2 Plus | 1 | 2049 NOK / 208€ / $234 | 2049 NOK / 208€ / $234 |
| SUM | | | 8889 NOK / 905€ / $1016 |
* You buy the hardware (Cloud key Gen2 Plus), so it will be the same price year after year. Note that the G3 Flex cameras does not include a PoE adapter, so you either need a PoE-switch or adapter.
Price conclusion
Hosting your own surveillance is half the price or less. Hosting on your own computer with no-brand cameras is cheapest, but keep in mind that you need to run the software 24/7 on a computer and it requires a lot more testing and technical experience from you.
Therefore, I choose and changed to the UniFi brand for my surveillance.
Good price
Good quality
Local storage (not cloud)
Available without any Internet-connection
I have UPS on a PoE-switch, so cameras are operational in case of power failure.
The UniFi camera lineup

Ubiquiti has a lot of different cameras. Almost all are PoE, but they have one WiFi model, the Ubiquiti Unifi UVC-3-Micro.  The WiFi camera is expensive and cost about the same as Nest and Ring cameras. But as mentioned, if you want a larger surveillance than one or two cameras, WiFi is not the way to go.
G3 Flex, that I use, uses PoE. This makes them easy enough to place around, as you only need a network cable to each camera – You don't need an electrician or a power outlet where the camera should be. If you need a camera off-site, you can use a Nanostation which I have done here.
My current setup
All my cameras today have a functional purpose and none of them (yet) are for security (but it is a side effect) Maybe the yard-camera is mostly security related 🙂
Stable
Horse pasture
Garage
Car port
Back entrance (to see if the cats have food)
Weather cam
Yard
Behind the house (as the horses grazing there sometimes)
8 cameras gives me about 6 days recording on the 1TB HDD that is included in the Cloud key Gen2 Plus. The HDD is easy upgradable if you need more storage.
The UniFi Protect app
Of all the apps I have seen or tested so far, the UniFi Protect is absolutely the best. It has a great GUI and have all the functionality available from the web-browser and the mobile app.
It has a timeline function that makes it easy to scroll back in time (I think Nest also have the timeline function?). On the web-app, you can build different views (grid) and are not like iSpy, where the camera-images just floats on top of each other.
UniFi Protect is also available on Apple TV.