I wanted a weather-camera at a cabin in the woods. This cabin has solar panels, with a WiFi-router, so I bought the Reolink Argus 2 which is a WiFi-camera with battery.
To make it clear, the Reolink Argus 2 is not a 4G camera. I recommend looking at the Reolink Go 4G or Reolink Go PT if you don't have WiFi.
Why Reolink? I got 9 UniFi-cameras at my home, and I originally wanted a UniFi-camera for this project – but a Unifi-camera would require a Cloud key Gen2 plus, which costs more than the Reolink with solar panel and memory card. The Reolink was recommended on multiple sites and Facebook sites, so I gave it a try.
First some words about the camera itself. As I have Unifi cameras today, a lot will be compared to the UniFi ecosystem.
Unboxing
The camera has a nice box with a lot of accessories. Build quality of the camera feels good. It was very heavy compared to the UniFi cameras I have.
Setup
Setup was very simple. I connected the battery to the camera, and it started beeping. I downloaded the app, clicked on the plus icon, and followed the instructions. The camera also talks and makes the installation process easier. I didn't have to register a user either and I had to allow the app to get battery-status back in time. Didn't understand the message completely, but I think I gave access for the cloud to fetch old battery-status. In other words, I feel the privacy is maintained.
The app
The app looks good and functional. If I should compare it to the UniFi Protect app, it's a bit messier. The bar above the camera picture is 1/3 size of the camera image. The preview image is so low quality that I can't read the time and date, so I'm not sure if the preview is old or not. Several of times I get a message that the camera is not connected or poor network quality, when I have 4 enterprise rated APs. When I click on the camera, it connects pretty fast. Little slower to connect than Unifi-cameras, but a lot faster than something like Arlo.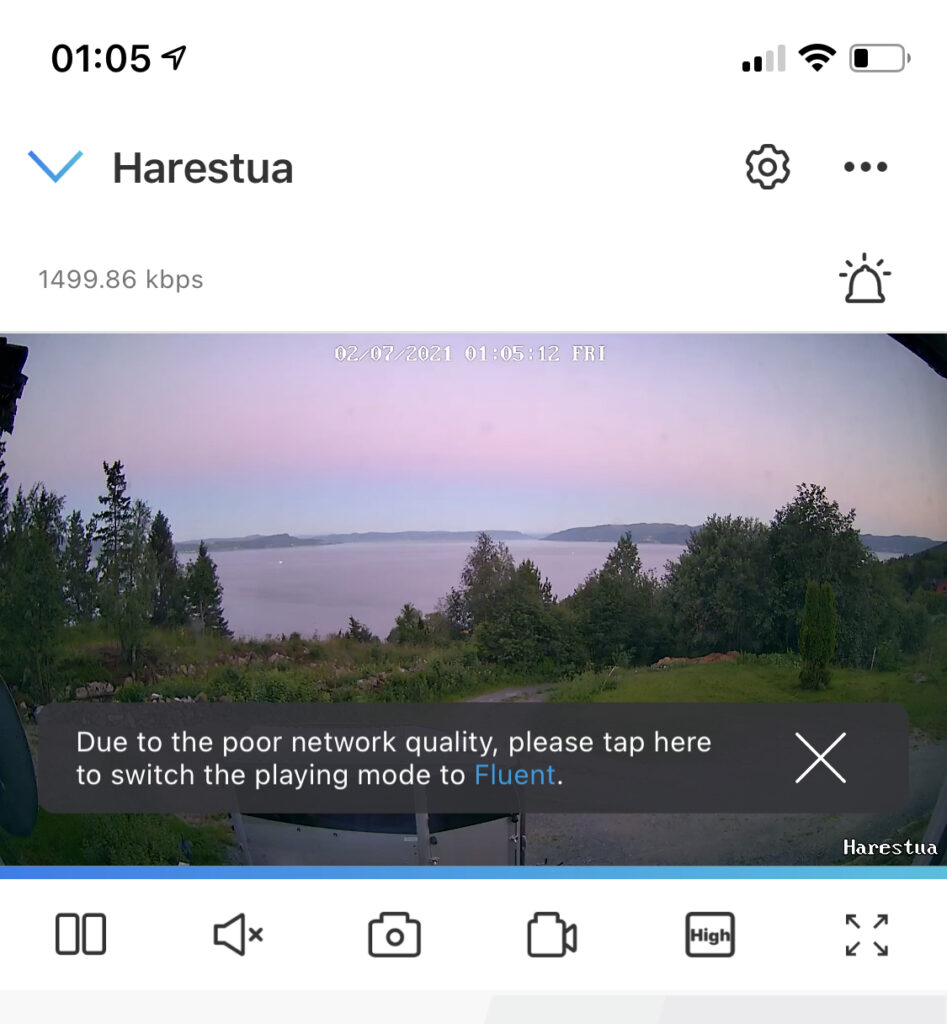 Functionality
This Reolink camera have a lot of features that the UniFi-cameras don't have. Like not needing a gateway (Cloud key), it has a battery and you can buy a solar panel for it. It also has functionality like timelapse.
The Timelapse functionality is interesting, because you have companies her in Norway, like https://byggekamera.no/. They offer a camera for 10.000 NOK in start cost and 2000 NOK every month, for a timelapse of your construction – while the Reolink do this out of the box for a one-time cost of 1000 NOK.
Here is a test-timelapse video through my kitchen window:
Camera-conclusion
This is not a review, but if I should give it a score, I would probably say something like 4 (out of 6). Mostly compared to UniFi which I would give a 6 to.
It's important to check what you need the camera for. In this case, the Reolink made more sense than UniFi for me.
I get a cheap Chinese P2P camera feeling with the Reolink. So far, I can only use the app to view and see the camera. It looks like the web-browser support is missing on battery cameras. They also have other cameras and NVR-system, that could make more sense for and surveillance system, but it looks like that is another ecosystem within the brand.
Would I use Reolink next time? Probably not. Because it's missing PC/web-browser functionality and no support for snapshot-upload to an FTP server (for e.g., weather-camera use).
Off-grid
So to the actual use of the camera – Off-grid!
The cabin already has a solar panel for power, but as I didn't know where to mount the camera, I ordered a solar panel for the camera as well. Mostly for simplicity, fun and combability – and it was cheep.
At this moment the camera has been mounted outside the cabin for about three weeks. It reports that the battery is 100%, which is nice. It's not the best camera-lens as there is a lot of distortion around the trees.