It's almost time for a new LAN-party event I'm hosting with 20 others. Not all in the crew are as technical, so this time I wanted a game server management, so others could manage the game servers.
My goal was to find a simple Game Server manager to manage Counter-Strike:GO. Finding Game Server Panels was easy. I found 15 of them by 5 minutes on Google. I'm not sure why, but most of them have already pre-defined Minecraft and they all have large focus on Minecraft-server.
After I removed the expensive ones, and they who haven't been updated the last 2-3 years – I was left with Pterodactyl, XenoPanel and PufferPanel.
Pterodactyl
Webpage: https://pterodactyl.io/
Recommended: Maybe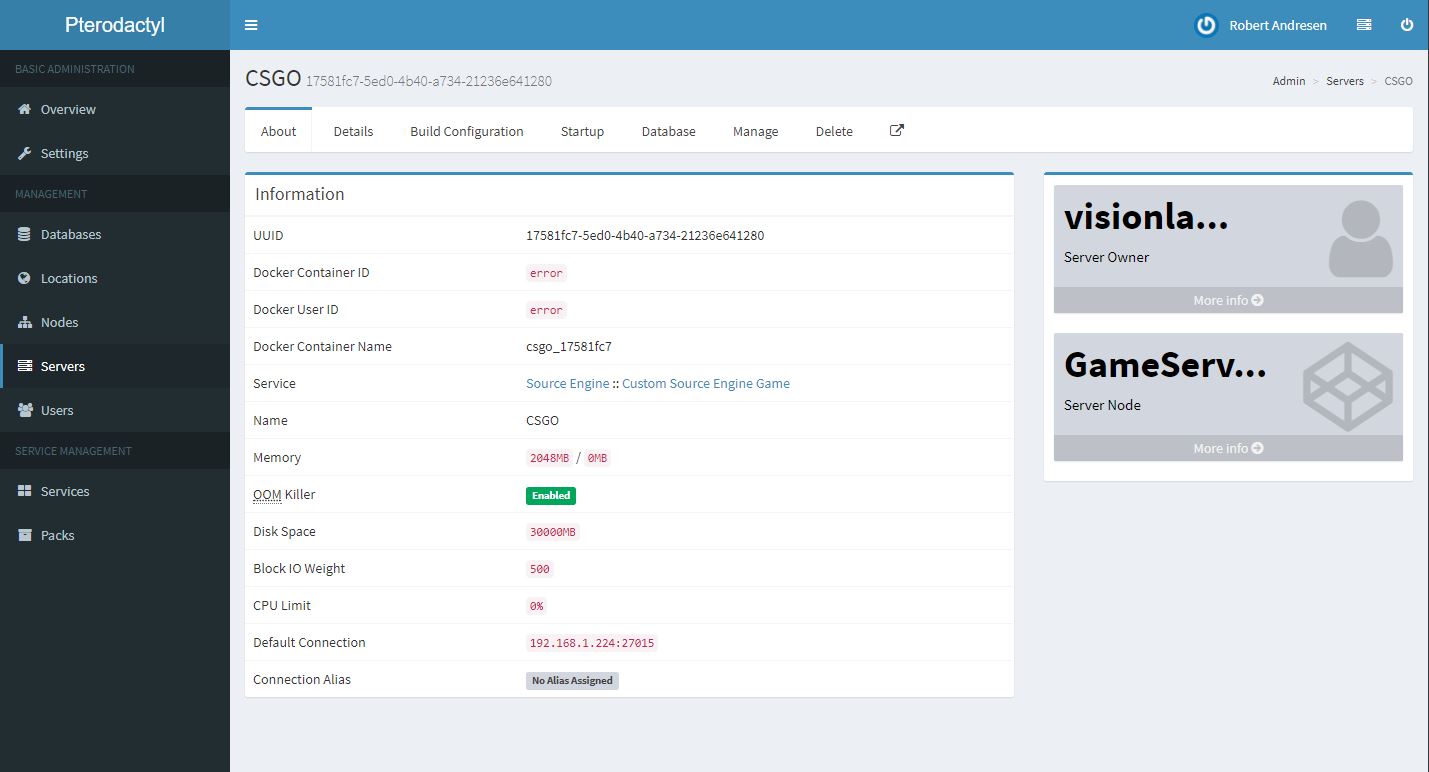 First of all, what a bad name. I can't prenounce it and I have to copy/paste everytime I write it.
Installing Pterodactyl was simple. The only thing I struggled with, was finding the deamon docs (service that runs on the node). This is actually located in the top navigation on the docs and is a «new» docs page. It would be more natural to put this with the rest.
Adding the node (Ubuntu server) was also simple – but then the struggle starts… Installing CS:GO was not in the dropdown list. I had to select Source Engine and the Custom Source Engine in the new server part. For every time the create server failed (because of a missing input or something) I had to start typing all the information from scratch.
The documentation to install Pterodactyl is great, but there it stops. Trying to get further after this takes patience with a lot of try and fail.
After some hours of struggle and finally got to add a CSGO server, it loaded (downloaded?) for 15 minutes before it said «error». I have no idea how to debug why or where to start. The GUI does not say anything.
I got some quick help in the forum, so Pterodactyl is still pending: https://forums.pterodactyl.io/topic/95-how-to-install-csgo/ (dead link)
XenoPanel
Webpage: https://xenopanel.com
Recommended: NO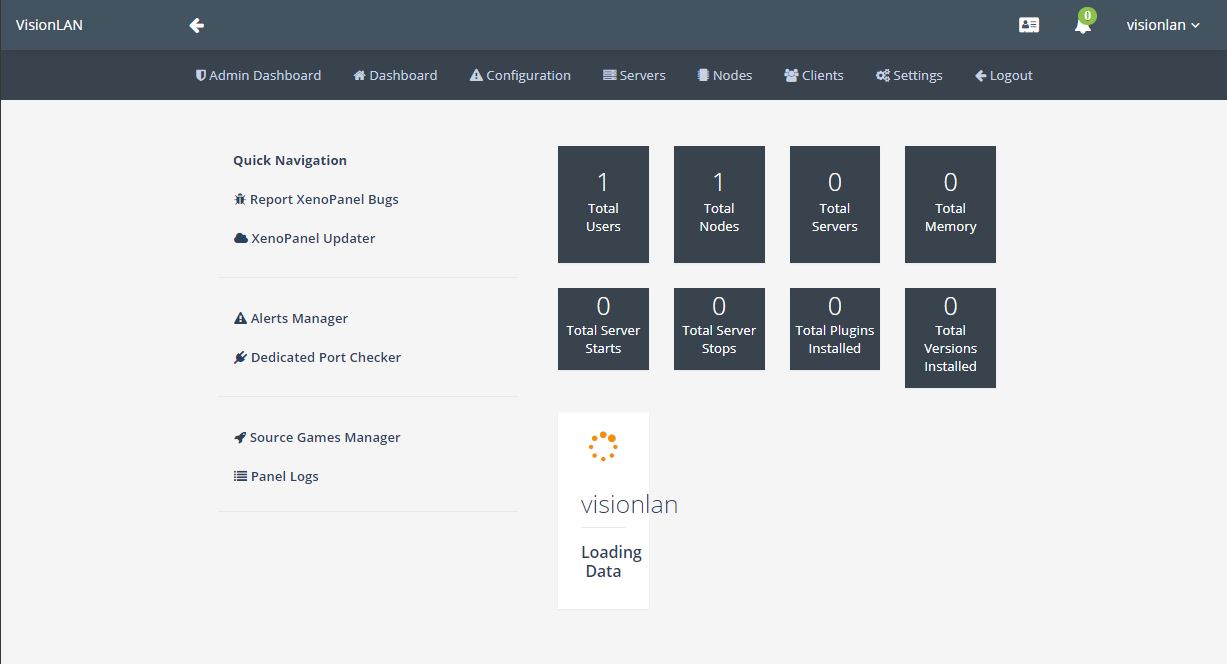 I paid about $10 for this. Most waste of money in a long time. I thought paying for something would give me better documentation and a simpler setup.
First after paying with paypal, and I got the paypal reciept, my payment-status was «unpaid» in their webpage. Paypal returns a success-status right away, so why keep me waiting for about 30 minutes to get the license and download files…?
I first tried Ubuntu 16.04, but gave up as it does not support PHP 7.0. I installed PHP 5.6, but the server was just not enjoying this. Then I tried Ubuntu 14.04 with PHP 5.5. After about two hours I found that their install script tries to install MariaDB, regardless if MySQL is already installed. This fucked everything up and was probably the issue on Ubuntu 16.04 as well. The Ubuntu install script says «beta», but it's so bad that it shouldn't be more then alpha stage. A step-by-step without the install script would be much better.
After rewriting their install script, populating the DB manually and edited some of the database parameters, I finally got the web-GUI up and running. At this time I had so many other errors on the server because of their install script, that I just installed a new CentOS 7 server. On CentOS 7, their install script actually worked. I got to add the server node, but there it stopped. I can't install a game server, because the node does not have any allocated memory for some reason. I have no idea how to allocate memory, as I can't find any option for it.
PufferPanel
Webpage: https://www.pufferpanel.com/
Recommended: YES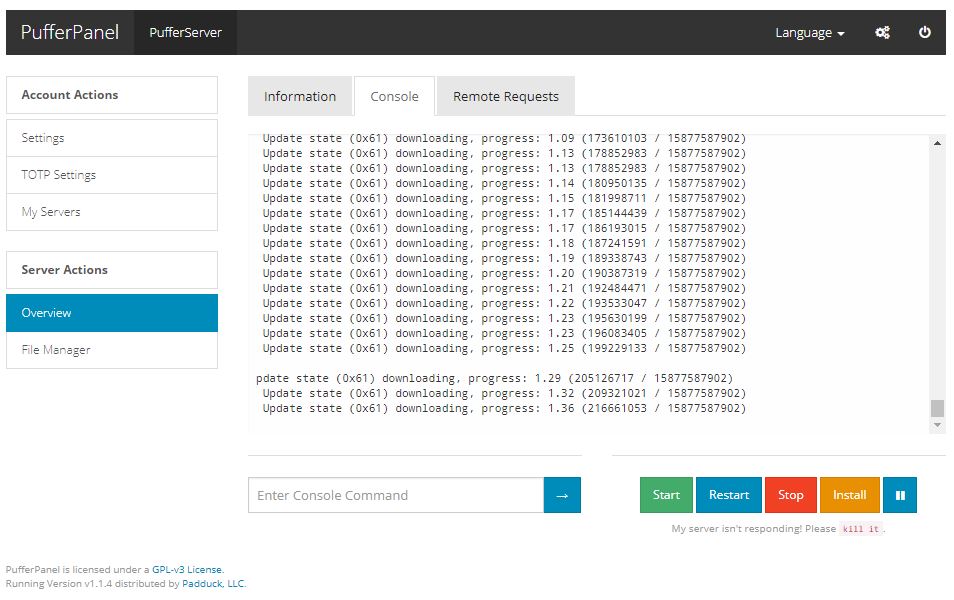 PufferPanel was not on the top list because of their homepage, which is mostly the docs. No images, nothing… There is was not much information to find, but I had to give it a try.
After just 15 minutes, I was already downloading CS:GO. I can also see the status in a console view on the web-gui.
Adding a node was also simple, by following the docs. I just added the node in the Web-GUI, got a script that I pasted on the node server – and then everything looked great.
The management GUI is not that great and a bit hard to navigate in, but it works, it's simple and best of all; A working CS:GO server in a short time, without any errors!
Other gameserver panels
Here are some other game server panels/managers that I haven't tried, or that I tried a long time ago.
Game CP
Commercial (from $3,95 /monthly)
Webpage: https://gamecp.com/
Linux Game Server Managers
Open source
Webpage: https://gameservermanagers.com/
Simple game management, but only CLI (no GUI). We used this on our last LAN party event. I recommend this instead of installing CS:GO native, as this has simpler configuration.
GamePanelX
Open source
Webpage: https://gamepanelx.com/
Updated recently, but the GUI looks like it's from 90's.
BG Panel / Bright Game Panel
Open source
Webpage: http://www.bgpanel.net
Looks nice, but's not updated since 2015. Last twitter activity was May 2016 – so the project looks a bit dead.
TCAdmin – The Game Hosting Control Panel
Commercial
Webpage: http://www.tcadmin.com/
It's popular and I have seen a lot of businesses use this one. The only downside is that it's expensive and the GUI looks like it's 10-20 years old.
GamePanel.io
Commercial (from £9,98 /monthly)
Webpage: https://gamepanel.io/
GSP-Panel
Commercial (from $5,50 /monthly)
Webpage: http://www.gsp-panel.com/
Open Game Panel
Open soruce
Webpage: http://opengamepanel.org/
Looks old, but updated last 12 days ago, so the code is active.
Swift Panel
Commercial
Webpage: http://www.swiftpanel.com/
This one is actually a bit funny. They advertise the Swiftpanel 2.0 is coming soon (this summer), but it looks like they haven't updated since 2009. Their last Twitter activity is also from 2009. Not sure why they are commercial and paying for a webpage, when the project has been dead for 8 years.
Mint Panel
Commercial (from $17 /monthly)
Webpage: http://www.mintpanel.com
Aimpanel
Commercial, but free license?
Webpage: http://aimpanel.pro/en/
Their «more screenshot» link goes to a forum-page, with a post from 2015. They write plans about supporting Ubuntu 14.04 and Counter Strike:GO, also from 2015. So the project is probably dead.
Brainless
Commercial (from $29,99)
Webpage: https://brainless.us/products.aspx
This is a wierd webpage. Not actually sure what they're main goal is. Lot of text, very little images and copyrighted from 2016. Looks like a lot of the other projects, where they have tried to create a project that died about the same time.