Alternative #1: Use the webpage https://www.messenger.com/.
Alternative #2: Download the unofficial Messenger for desktop app, https://messengerfordesktop.com/. This is actually the webpage in a shell. This is based on a open source project. But the page tries to push some other apps on you now, so I'm running away from this app 🙁
My recommendation, Alternative #3: Use the Windows app by Facebook, https://www.microsoft.com/en-us/store/p/messenger/9wzdncrf0083.
My criteria's and history in search for a IM-client
I hate typing on my mobile. I mostly sit on my computer or close to one, so why type on a tiny touchscreen keyboard? After Windows Live Messenger disappeared, there was a hole needed to be filled. What application to use for communication?
Go back to ICQ or IRC? No thank you.
Use Skype? I actually tested Skype a period, but finding people is hard, as most of them who doesn't use it that much, create a new account every time, like me. There was also some problems there some of the messages didn't got sent or received before the next day. And it's a large window with very little focus on the chat part.
For some years ago people started using Lync… But what is actually Lync? A business Live Messenger, with some phone support… And it costs money. No thanks.
Now days people use things like Discord and Slack, but Discord is messy for chatting and uses nicknames – Great for VoIP and gaming though. Slack costs money 🙁
The conclusion is that we end up with the Facebook-chat…
Facebook has a very large user-database. It's very searchable. It's easy to find people, as they use their real/full name – and you can post video, pictures, gif, etc…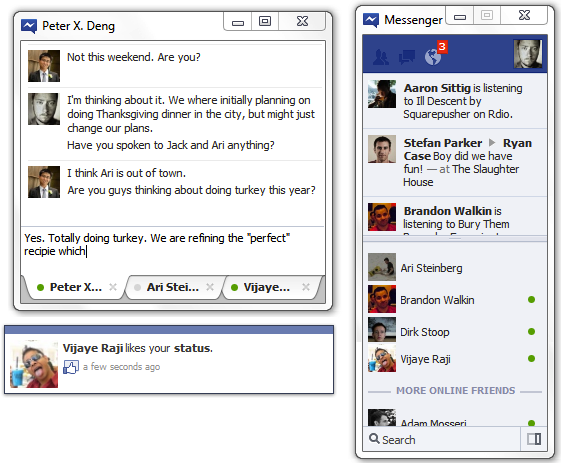 The problem up to 2016, has been the Facebook webpage-integration. I have absolutely no need to visit the Facebook page. I only want to communicate with people. Between 2012 and 2014 FB actually had a Windows client for messenger, but they closed down the project.
Now, I think the last two years has been very busy years for FB Messenger team. They have completely separated out the Facebook app and messenger on mobile (iPhone at least), created a new webpage (messenger.com) and now they also have an app that can be used in Windows. So finally, a good IM client without commercials that works great – and the best of all, you don't need to visit the Facebook-page at all.
Why desktop-client? Why not use the web-browser?
I'm one of those people who sits with at least 50 tabs open in the browser, and filling up a whole monitor just for a little chat is a waste of space. Most of the time it's just to type a quick answer, but finding the Messenger-tab and back to the page I was using is HARD! You can use CTRL+TAB, but still. The new HTML5 desktop notifications helps a little, but nothing is better than good native application 🙂