Today I received my Telldus Znet Lite!
I'm not really sure why I bought this, as I already have an Telldus Net. But my passion for home-automation could not resist 🙂
So, what is Telldus Znet Lite?
It's a little box that sends and receive wireless signals to different devices in your home, and let you control these devices from your computer or mobile. You can also create events and schedules.
Examples:
My Christmas-lights turn automatically on at sundown, and turns off 01:30 at night.
I have also setup a e-mail warning when humidity in the basement get to high, to prevent any damages.
Difference between Telldus Znet Lite and Telldus Net?
Telldus Znet Lite can run schedules and events offline, so my christmas lights will still turn on and off without an Internet-connection. As my Internet is stable most of the time, this isn't really a issue for me.
The other thing, is that it supports Z-wave. Telldus Net only supports 433 MHz devices (mostly lights, temperature-sensors). Z-wave have a range of devices from lights, temperature, door locks, water valves, smoke-detectors, etc…
The downside is that Z-wave products are expensive. The cheapest ones starts from 500 NOK (about. $50), where the same 433 MHz products starts from 50 NOK (about $5,5). The beauty with Telldus Znet Lite is that you can have both 433 MHz and Z-wave.
BUT… Telldus Znet Lite does not receive 433 MHz, only sends. It can send and receive Z-wave. I have a lot of 433 MHz temperature and humidity sensors, and the Znet Lite cannot read these. So I'm stuck with my Telldus Net a while longer.
Telldus Znet Pro
Telldus are planning to release a Pro-version in 2016. This version can also receive 433 MHz. It's also «hackable», with sdcard, usb and supports plugins directly on the device.
Unboxing
The Znet Lite comes in a nice box. It's easy to open and set it up.
Connecting the Telldus Znet Lite
I connected the power and ethernet to the device and logged in to live.telldus.com.
Clicked on Locations and the + button to add. I filled in the activation code, but got an error and some troubleshooting.
After a while I realized that they have written that the add new location was only for the Telldus Duo and Net. So while trying to figure out the manual, the Znet Lite automatically appears under my locations.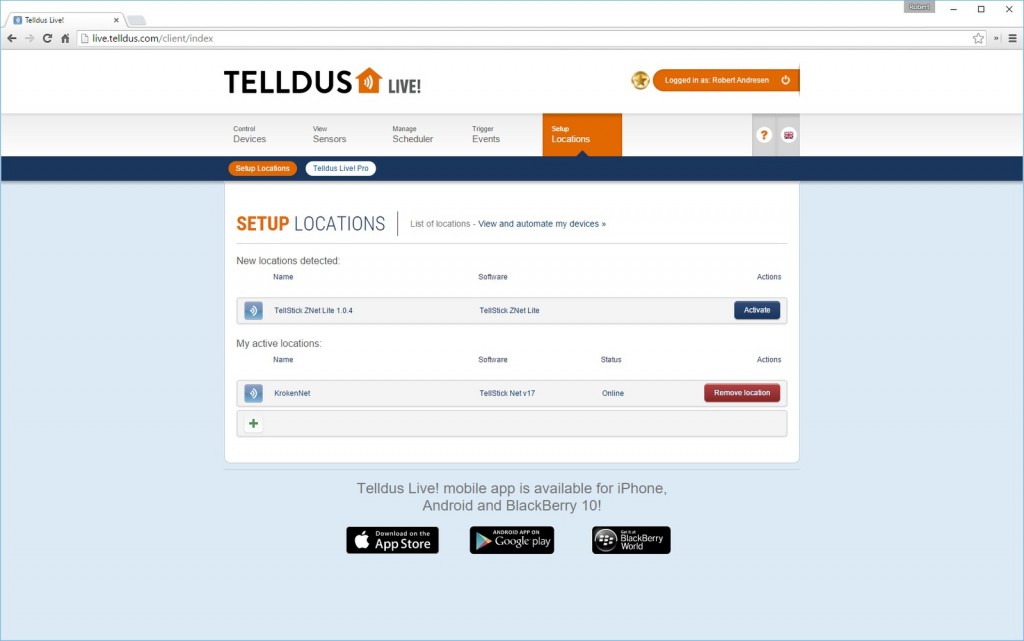 Should you buy the Telldus Znet Lite?
My conclusion is no!
Why buy Z-wave components for a lot of money, when you can get 433 MHz devices for almost «free»? This is also why Telldus implements both protocols in their new devices now.
If you have a lot of Z-wave devices, you most likely already have a Z-wave gateway – so keep this and wait for the Pro-version.
If you don't have any Z-wave devices, you probably already have temperature and humidity sensors on the 433 MHz. If not, then you probably want to buy them instead of the Z-wave sensors because of the price. So then buy the Telldus Net or wait for the Pro-version.
There should actually be NO reason at all to buy the Telldus Znet Lite, because it limits your options.